Random Retro Roadmap Saturday Fun Stuff
Posted on: May 12, 2012
Hey kids! It's a beautiful sunny Saturday, and while I hope to hunker down at some point and do some official writing of posts, sometimes you gotta enjoy life while it happens. So you may get a post or two from the road, or a yard sale today. But before I go out and play here are a couple of random things that I think you might be interested in!
Today is Burt Bacharach's birthday! He's a fave here around the Hacienda – right up there with Herb Alpert, and we listen to his records on the hi-fi many a Sunday morning.
We also have a special fondness for him in Phoenixville in general, as he's the composer of the Theme to The Blob!

You may recall that one of the many things that we love about our little town is that the 1958 classic campy horror movie The Blob starring Steve McQueen was filmed right here in our area, with the great "running out" scene filmed at my home away from home The Colonial Theatre just down the street.

Every year we have a Blobfest, and re-enact that scene that I like to call The Running of The Blob – I've never managed to run out, but it sure is fun to watch!

In other, stinkier news, I read last night that Retro RoadInspiration Debra Jane Seltzer of RoadsideArchitecture.com was in a car accident during her recent mega 39 day road trip. She and her 4 dogs are OK, but her trusty van Sparkle now has thousands of dollars in repairs that need to be done. Blah!
DJS has amassed probably one of the largest collections of roadside photographs of vintage signs, mid century buildings, roadside oddities and more- and she does it all on her free time and with no subsidizing from anyone. She's a gal with a mission, and we all benefit from her commitment to "the cause" of documenting these vanishing treasures an sharing her finds with all of us – on her site  or blog or Flickr page.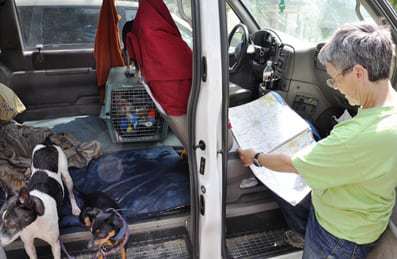 I don't want to make a heavy handed plea for money for her – heck I can barely do that for my own site – but if you think what she's doing is valuable and have enjoyed following her blog or viewing her photos, why not say Thank You by donating a few dollars to help get her back on the road? Here's a link on her website where you can Paypal her any amount you'd like. I can't help but think it's good karma, but that's just me.
Speaking of good karma, I hope the Yard Sale gods are with me this morning, because as soon as I finish typing up this post I'm blowing off my morning workout so I can get in some good thrifting! I don't need a damned thing but I love the thrill of the hunt, especially when you come across such great finds as this collection of glasses I picked up recently.
I'm hoping to find a few more saucers so I can complete my Plate Border on our Hacienda patio (yes for all of my love of the road I also love hanging around our little pad and making it look adorable.) Wish me luck!
I'll be posting photos from today's adventures on the Retro Roadmap Facebook Page so swing on over there to tag along.
And how could I ever forget that today is the day that Retro Roadhusband returns from Nashville, or that I need to pick up dresses from the tailor, soap from the farmers market, go see our pals play some rockin music at the Celtic fest down the street and then see RRH play bass with Jeffrey Gaines and a whole host of other Philly rockers tonight? Too Much Fun! (and caffeine this morning ;-))
OK now, the more I type the more treasures I may miss, and Retro Roaddog is totally giving me the eye saying Lets Go Walk!! Check in with you all later and hope you have a swell Saturday!