Retro Roadmap Roadbooks
A series of travel guides/journals featuring Mod Betty's favorite "Cool Vintage Places and Retro Fun", for YOU or someone you love!
Now available:
Delaware
Philadelphia Pennsylvania Suburbs (Including Bucks, Chester, Delaware and Montgomery Counties)
Retro Roadmap  Roadbooks are not just your standard travel guides, as Mod Betty has included some features she's always wanted in a printed travel book but never could find…until now!
These details make Retro Roadbooks easy to use AND help you transform the book into your one-of-a-kind personalized travel journal – a keepsake filled with your memories of the fun you had on your Retro Roadmap adventures!
Each Retro Roadmap Roadbook Contains:
Information and photos of cool vintage places for you to visit:
To Eat
To Do
To Shop
To Stay
PLUS:
Space for you to write your road trip memories, discoveries, faves and finds:

The List – checklist to easily keep track of where you've been, and where you want to go:

Mobile-friendly QR code to get Google Map directions to each spot:

Get yours today and start your own Retro Roadmap adventure! Retro Roadmap sticker included.
MAKES A GREAT GIFT, TOO 🙂
Free  Retro Roadmap Stickers

3×5 die-cut vinyl – it's the perfect way to let the world know you're a Retro Roadmapper!
To get your FREE Retro sticker, just send a Self Addressed Stamped Envelope to
Retro Roadmap
P.O. Box 896
Phoenixville, PA 19460
Click here to see where fellow Retro Roadmappers have put their stickers here in the Retro Roadmap Sticker Spotting Gallery!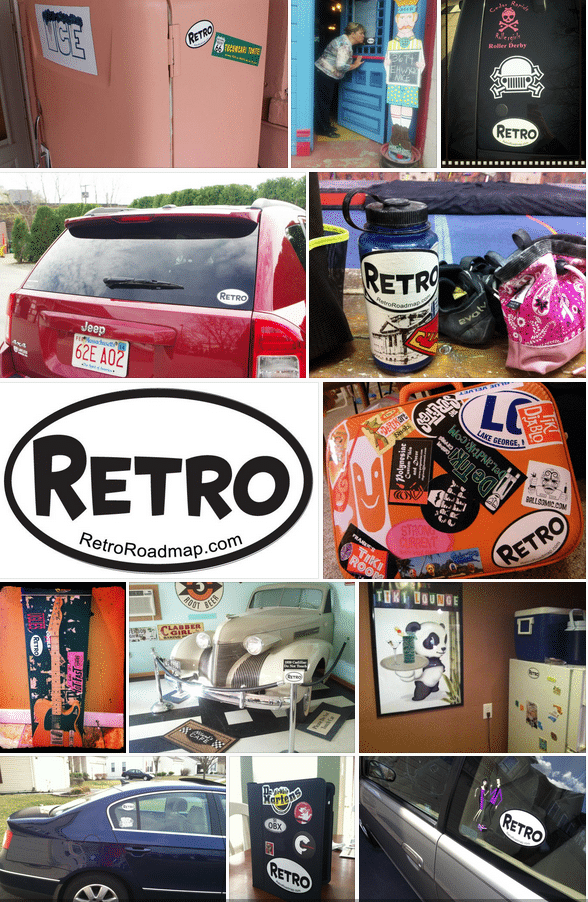 Watch Retro Roadmap™ TV!
Turn Up The Fun with Retro Roadmap! Roadside Attractions! Duckpin Bowling in Baltimore! Wild Wildwood NJ! NYC Classic Cocktails! A Really Big Shoe in York PA! A Sweet Vintage Treat in South Philly! See them all on the Video page!