The Colonial Theatre – The Jewel In The Crown of Downtown Phoenixville PA Mod Betty's Hometown Movie House!
Posted on: May 21, 2009
2017 Update – The expansion of The Colonial into the adjacent historic bank building is complete and looks GORGEOUS! See for yourself in this photo: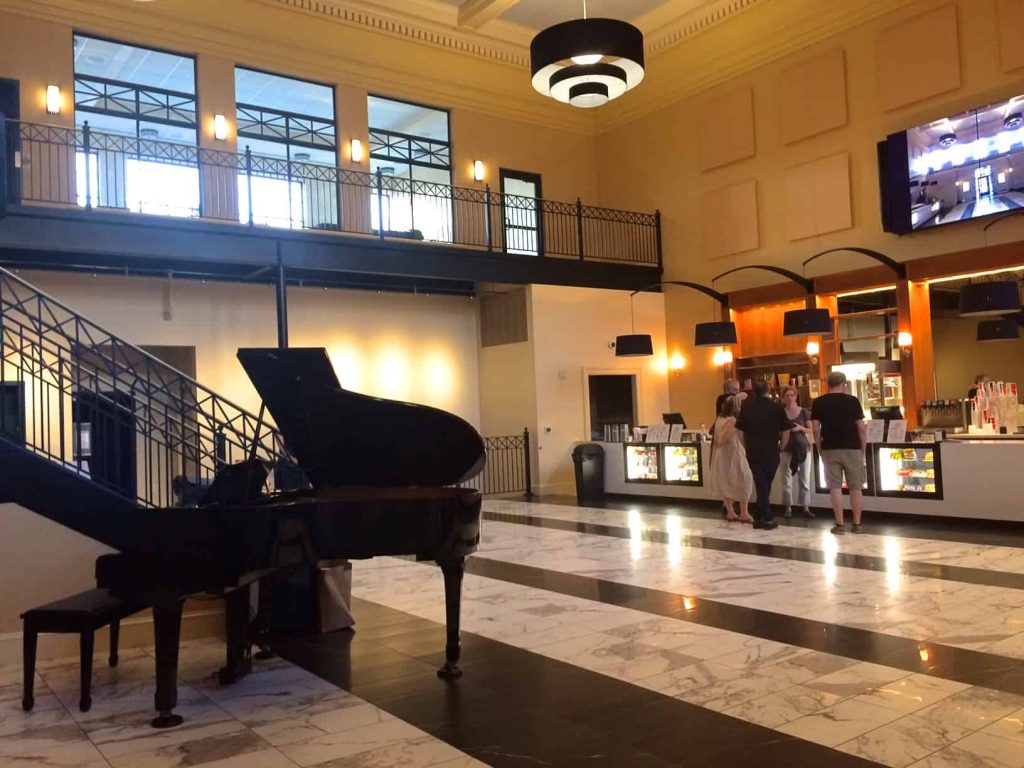 Even more amazing when you see what this space looked like BEFORE:
Great Job, Colonial! 
The jewel in the crown of the downtown revitalization efforts of Phoenixville PA, the Colonial Theatre is truly a gem. Built in 1903 it has been a movie theater, a live theater and now shows a combination of independent films, classic movies and childrens programs, live music and more.
Exciting news for 2017 – it is expanding into the adjacent Bank Building, for even more fun for all of us! Read here to learn more about the Colonial's expansion plans.

Probably one of the most notable things about the Colonial is the decision made during the 1999 restoration process to not go back to the original 1903 version of the theatre facade, but instead replicate the striking 1950's era yellow and black design. This facade is probably the most famous thing about the Colonial, as it features prominently in the 1958 horror/sci-fi/ kitschfest movie The Blob, where the frightened moviegoers stream hysterically out of the theatre with The Blob right behind them!
A recreation of this pivotal scene (dubbed by me the Running of the Blob)  has now become one of the highlights of Blobfest, a celebration of said movie.
I am biased in my love for The Colonial Theatre, as it is within walking distance of our house and is a major reason why we live here. Much like my dedication to this blog/website, moving to this small town was a statement of support- not only for places like the Colonial but for towns like this that are trying to bring back that walkable, shop downtown, community vibe.
We aren't the only ones to benefit from the Colonial Theatre, as  it also allows folks from the surrounding 'burbs, to watch independent movies and classics on the big screen without having to make the traffic choked trek into Philadelphia.
I can't think of a better way to spend a Sunday afternoon than nestled down in the dark catching up on a classic movie as it was meant to be seen – ON THE BIG SCREEN!
The facade is striking in its yellow and black contrasts, the marquee sets the street aglow at night, and the interior is charming movie theatre romantique- burgundy curtain, balcony and all. Why they even have a pipe organ installed and in use!
Supported by members and volunteers, the Colonial Theatre is the star attraction in the Chester County PA area. Do yourself a favor and run don't walk to the Colonial – Blob or not!
The Colonial Theatre – The Jewel In The Crown of Downtown Phoenixville PA
227 Bridge St Phoenixville, PA 19460