Dairy Palace – Family Owned for 60 Years! Sweet New Castle Delaware Landmark
Posted on: June 18, 2016
Dairy Palace: New Castle, Delaware
address: 2 Jay Drive New Castle, DE 19720
phone: (302) 328-9740
Note: Seasonal, Cash Only
When some shoppers are feeling saucy, they call Target Tar-jhay; when Mod Betty is feeling sassy, I refer to the Dairy Palace in New Castle as the Dairy Palais. But other than that fancy pronunciation, there's nothing snooty about this seasonal soft-serve ice cream stand located on busy route 141 just south of Wilmington.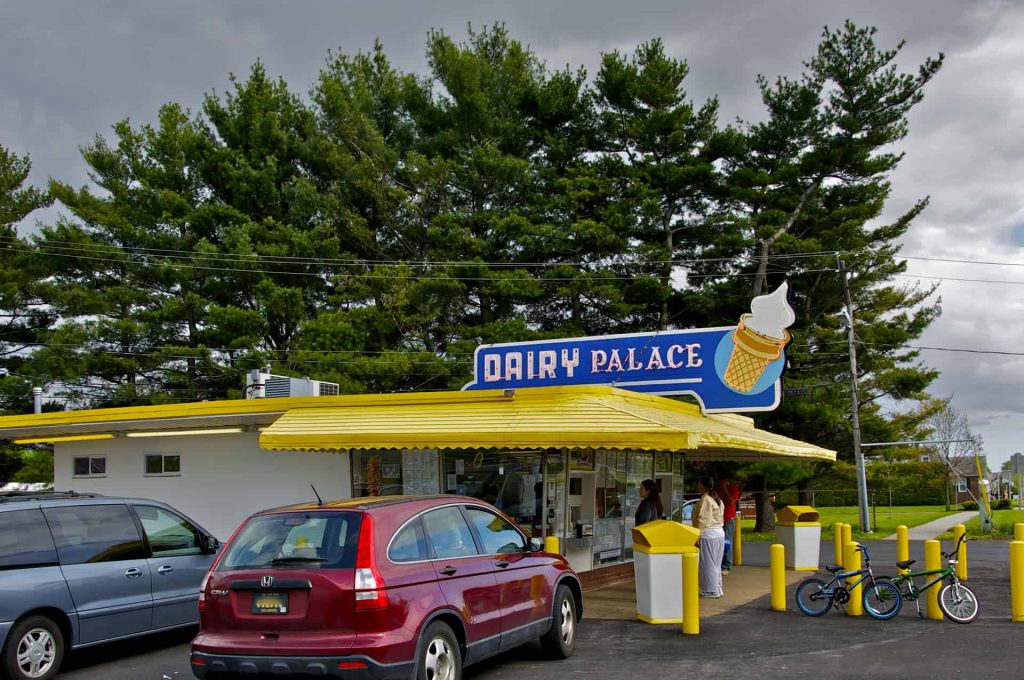 Take a quick detour off of Route 95 or 13 and you will soon spot the bright yellow painted metal awnings atop a crisp white building, all capped off by a royal blue sign with jaunty soft serve cone pointing skyward.Look closer and the rivets on the sign and different font for Palace tip you off that this was once a Dairy Queen. Who lived in a Palace 🙂
Established in 1956 by Joyce and Vince Parker, The Dairy Palace is still family owned and operated. Their season runs mid-March through early October.
The Dairy Palace has more than the van/choc combo of your typical soft-serve establishment. An incredibly wide number of toppings is available for you to choose from, and the combinations made thereof border on overwhelming. Luckily the folks at the Dairy Palace have created a menu of suggestions, located on the side of the building, in case you need guidance.
If you can time it right, the Dairy Palace looks positively radiant at dusk. The warm glow of the neon contrasts with the pine tree backdrop and echo the colors of the setting sun, while the yellow fluorescent lights throw a warm cast onto the gathering crowds below.
Fudge Hopper, Orange Pineapple Shake or plain vanilla kiddie cone? Get what ever your sweet tooth desires. Hot dogs available to those with a salt tooth 🙂
Dairy Palace – Family Owned for 60 Years!
2 Jay Drive New Castle, DE 19720