Double Martini Vintage Neon Sign Goodness! Ed's Steak House Bedford PA Bedford, PA
Posted on: September 29, 2009
UPDATE July 2012: Retro Roadmap Reader Louis writes "Bad news, the Ed's steakhouse sign was taken down last year because it was in bad shape! they just threw out!
Also the hill crest hotel is closed but the food sign is still there."
On the rainy night of our 2003 stay in Bedford PA , the fabulous vintage sign of Ed's Steak House shone like a beacon. How could we not want to eat in a place that had such a Vegas-like sign in the middle of Pennsylvania?I'm a sucker for the martini glass motif, so in we went.  We had a warm meal on a cold night, and left satisfied.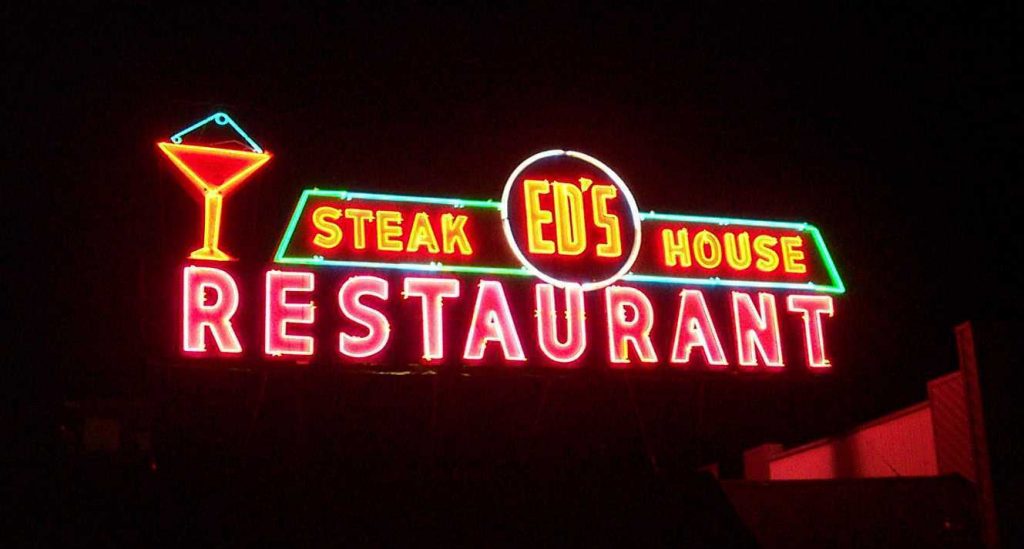 During our return trip through Bedford this summer we decided to give Ed's another visit before hopping on the turnpike. The signage looked just as appealing during the day, and the place was bustling with activity.
While waiting in the lobby I saw a photo of Ed's from when it first opened up in 1954. Alas the restaurant has been redecorated a bit since then and doesn't look nearly as cool as that double storied windowed gem in the faded photo. But  they do still have the lounge area, where you can relax with a martini while waiting for your dinner – we'll sit there next time for sure!
I thought Mr. Toast would like this mini loaf of bread that was served before our food!
Our meal was fine, and filling.  But, as I said to Retro Roadhusband after we ate, "the food was fine, but I really like the sign".
Check out the other cool martini sign near Ed's –
Though I didn't get  a stellar picture of it, you also should check out the sign on the hotel behind Ed's ( I didn't catch the name of the place and not sure if it's the Econo Lodge that Google shows, but you can't miss it if you're at Ed's) The place looked a bit dubious,  but it has a great old  neon sign:
I snapped a quick photo from the car, trying not to disturb the folks lingering outside in the sun talking on their cellphones. We noticed when we were driving away that the sign actually flashed, changing the word FOOD to GOOD. GOOD FOOD, I love it.
So if you happen to be in the Bedford area, snap a photo of these gorgeous signs-  day or night they're a  sight!
Double Martini Vintage Neon Sign Goodness! Ed's Steak House Bedford PA
4476 Business 220 Bedford, PA 15522