Frazer Diner, Malvern PA – Vintage 1930s -era Eatery! Malvern, PA's Authentic Diner
Posted on: July 11, 2010
address: 189 Lancaster Ave Malvern, PA 19355
Phone: (610) 251-9878
Note: Cash Only
2017 Update: Not major changes at the Frazer – happy to report! Still sitting pretty on Route 30: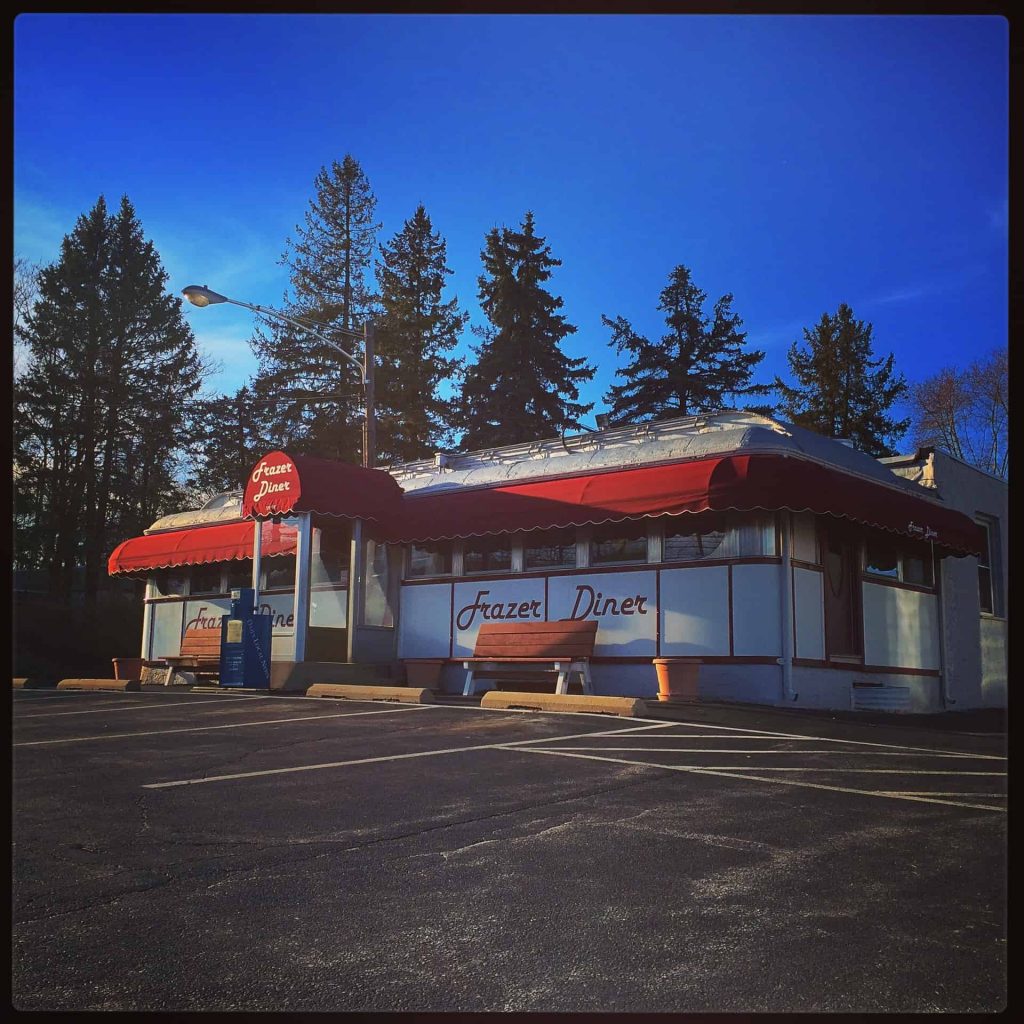 Just remember not to take photos when inside the diner and you'll be all set! 
Original 2010 report:
Friends, I recommend that you visit the Frazer diner when you're driving down Route 30  looking for an authentic diner breakfast, surrounded by a well preserved vintage diner interior.
According to that handy reference "Diners of Pennsylvania" (written by Lincoln Highway Scholar Brian Butko and Kevin Patrick) The Frazer Diner was established in 1929 and built by the Jerry O'Mahony Co, and is currently the only remaining example of a mostly unaltered 1930s O'Mahony diner. And wow, is the interior nice. The clock even works!
I have a personal fondness for the Frazer Diner as Retro Roadsis and I ate here on a Boston to Lancaster road trip back in 1999.
During that visit to Lancaster I was re-introduced to the musician who would later be known to you folks as Retro Roadhusband, and he and I now happily live within 15 minutes of this classic diner. So funny to think that when I was eating breakfast at the counter there all those years ago, I had no idea that my life would be so changed by that roadtrip and that I'd be living so close to  that diner, married to that guitar player. Cool stuff, in my book!
Retro Roadhusband and I ate there late last November, when I snapped these photos. As you folks will know, I take pains to ensure that people don't appear in most of my photos, but was still a bit shaken when I was reprimanded by the waitress for taking photos. Determined to work through that, I approached her after we had eaten and since we were one of the last couples in the diner, asked if I could snap a few shots, making sure that no people were in them, and she gave that the OK, explaining that some folks don't like to get their pictures taken. (Like she has to tell me- I don't like getting my picture taken at all!)
Frazer Diner, Malvern PA – Vintage 1930s -era Eatery!
189 Lancaster Ave Malvern, PA 19355