The Goal Post – Animated Neon Sign Now at Betty's Bar-B-Q! Animated neon sign gets new life!
Posted on: May 20, 2011
Betty's Bar-B-Q / Goal Post Neon Sign: Anniston, Alabama
address: 401 Quintard Ave, Anniston, AL 36201
Tags: AL, Anniston, B-B-Q, bar b q, barbecue, bbq, Football, Goal Post, Ice Box Pie, neon, Sign, Warrens
Update July 2016: thanks to Tiki Kiliki of The Hukilau, we've learned that the animated neon sign from the Goal Post sign is now up and viewable at Betty's Bar-B-Q in Anniston! We haven't been there so can't comment on the food BUT if you want to see the sign I've added the address onto the post here. Yay!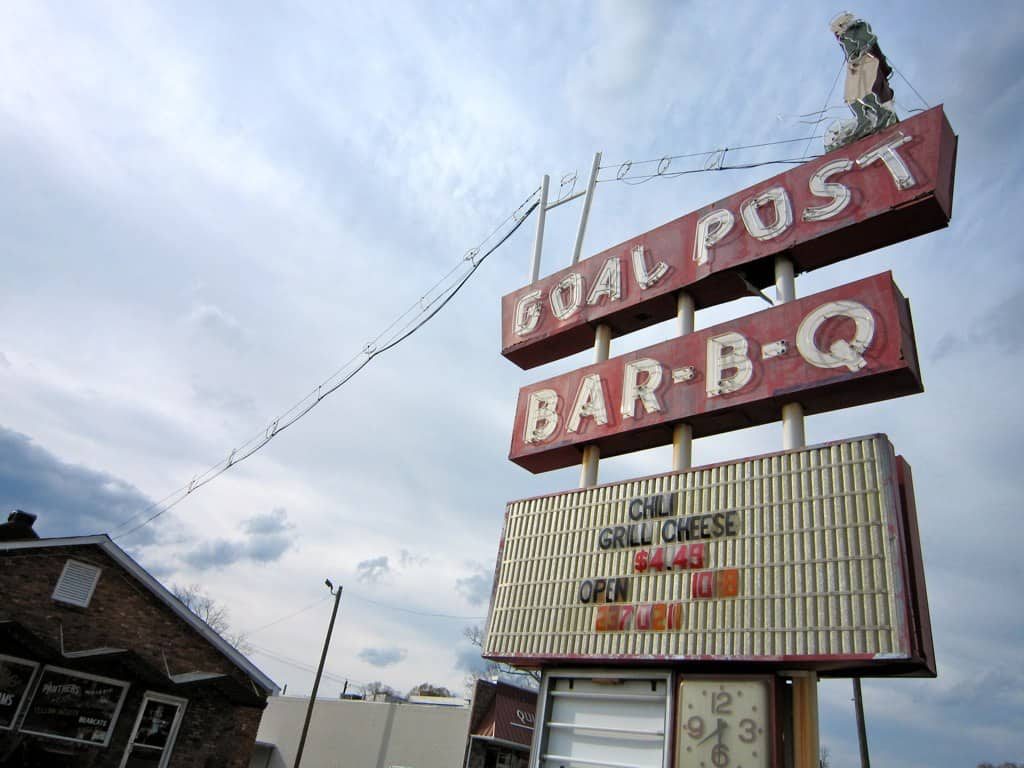 UPDATE Jan 2014: Mod Betty doesn't always get info about the status of places on the map, so I only just found out that sadly the Goal Post closed in September of 2013. In good news, the sign won't be demolished but instead will be installed at Betty's Barbecue, owned by the family that originally owned the Goal Post. Read about it here. 
Our original post from 2011:
We came to the Goal Post Bar-B-Q in Anniston AL mainly because of the great neon sign, but will remember it for our tasty food!
It's hard to tell from the photo above, but the Goal Post's sign is an animated neon sign, with the football player's leg swinging back and forward to kick the lighted football. Multiple neon footballs are lined up in a row, and when they flash in order it looks like the football goes sailing across the small parking lot and onto the roof of this small brick restaurant.
But enough of my yakking trying to describe it, here's a video of the sign (thanks to Wood Valley Neon on Youtube for capturing it!)
It was a bit of a bummer not to be able to hit this place at dusk and seen the sign ourselves, but since we were there we decided to catch a bite. I was a bit wary of the signs that said it was a smoking establishment when we entered, but no one was smoking while we were there so we were fine. Just wanted to point that out up front in case this is a dealbreaker for folks.
The Goal Post is an interesting place, as it looks like a fast food stand from the outside and is decorated with football memorabilia on the inside. I wasn't sure what to expect BBQ-wise,  but RetroRoadhusband was game to try their offerings. We had yet to get any barbecue on this trip, so now was the time!
Once our food came out we knew we made the right decision to eat here, even though we had stopped for a snack a few hours earlier. Just look at how delicious those ribs are, glistening in the sun- yum! . I had a taste of everything that RetroRoadhusband ordered on the plate below, and it was indeed tasty, but my mind would not rest until I had some pie!
I was in the South goldangit and I was gonna get me some of that icebox pie I'd seen on many a menu. Now again, this being a casual "plastic chairs and booths" type of place I wasn't expecting the pie to be the greatest, but I'm telling you, it was divine! Cool, tangy, silky,light, refreshing.  I was totally amazed at how delicious it tasted. Seriously a culinary highlight of our trip, and we ate a lot of food on this drive.
So go for the sign, stay for the 'cue and leave room for the PIE!
The Goal Post – Animated Neon Sign Now at Betty's Bar-B-Q!
401 Quintard Ave, Anniston, AL 36201