Heidi's Inn – Brewster NY Family Owned Motel
Posted on: April 18, 2016
Heidi's Motel: Brewster, New York
address: 1270 Rt 22 Brewster, NY 10509
phone: (845) 279-8011
Retro Roadhusband and I found a nice little family owned vintage motel just moments off of Interstate 84 in Brewster New York. Since we were pleased with our stay I thought you Retro Roadmap readers might want to know about it, since roadside motels that are worth staying at are so few and far between.
I reached out to owner Sean Diggin to learn about the history of this little roadside lodging. He was gracious enough to send some details as well as  scans of the vintage postcards of Heidi's! Here's what it looked like back in the day:

And here's what it looked like when we visited a in 2015!

Though our room looked like a regular motel room, I did just have to share this vintage postcard interior shot. I would have LOVED if our room looked like that!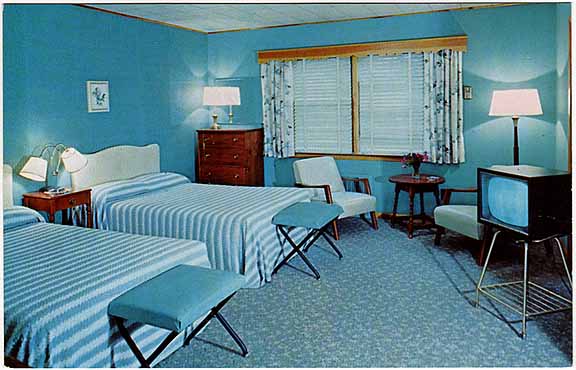 Sean writes:
Heidi's was built in the mid 1950s by the Vonderheide family from Germany.
We had the pleasure of hearing stories about Heidi's from Mrs. Vonderheide herself
as my family purchased Heidi's in 1985.
From what I understand Heidi's got its name from a combination
of the original owners last name and the Heidi movie.
According to Mrs. Vonderheide, Heidi's was a sort of mini resort in the 60's
where people had to make reservations a year in advance.



Mod B notes – there used to be a coffee shop, but now they serve continental breakfast in an addition made to the main office. You can't miss it because of the giant fireplace!
Sean notes:
The addition with the lobby was built in 1986 by my father Michael Diggin from County Kerry, Ireland.
My father picked the rocks from the hills behind Heidi's with his old tractor and trailer.
He had the builders make him an Irish fireplace.
Recently my family has passed Heidi's on to me.

It is my passion to restore Heidi's to its former glory.
We had a nice stay even though it was a short one. Everyone we met who worked there was very pleasant and helpful, the motel has some pet-friendly policies, and the continental breakfast was surprisingly well stocked for a motel.
We wish Sean the best of luck!
We know it's so hard to compete with the big chains, but from the Trip Advisor Reviews, the kind words on their Facebook page and our pleasant stay, it seems like he and the Heidi Motel are on the right track!
Heidi's Inn – Brewster NY Family Owned Motel
1270 Rt 22 Brewster, NY 10509