Hot Dog Johnnys Buttzville NJ – Reader Recommended! Belvedere, NJ
Posted on: July 23, 2012
Retro Roadmap Reader Recommendations are the BEST! Especially when they come with photos and a writeup – like this fab submission of Hot Dog Johnny's in Buttzville / Belvidere / Oxford NJ, from Reader Kristina Steiner.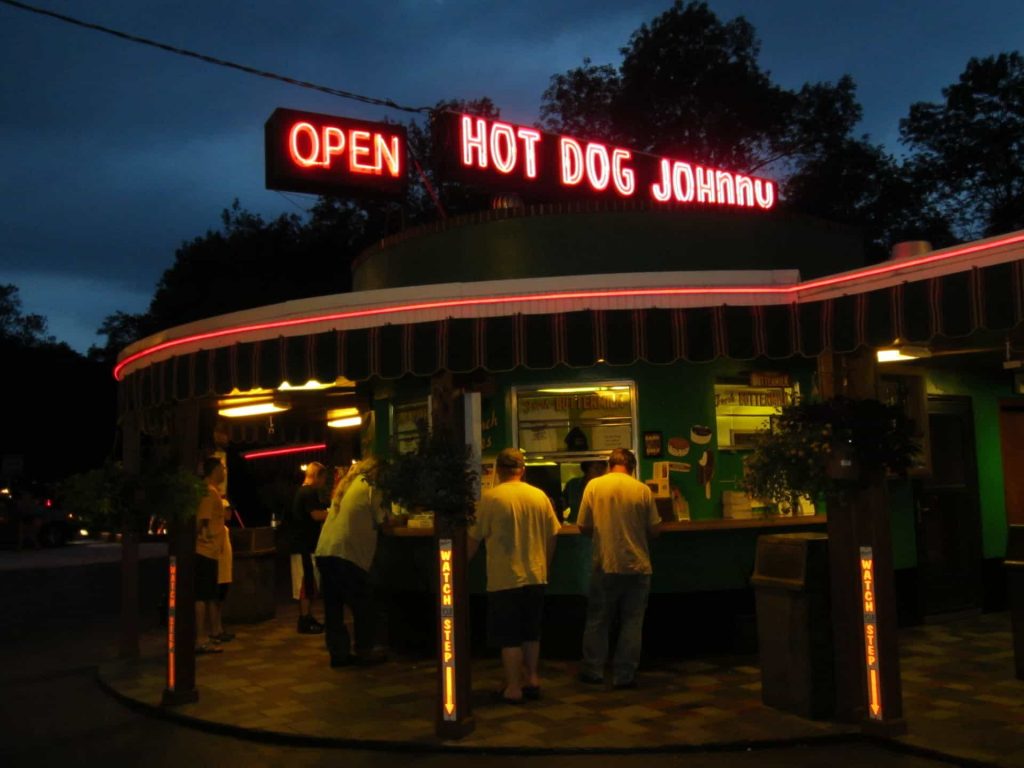 Kristina writes:
It's in the small town of Buttzville, New Jersey (LOL all you like!!! We all like to yell BUTTZVILLE!! sometimes even when all we're doing is driving through.) It's located in Northwestern New Jersey and pretty close to Pennsylvania.

They have hot dogs of course, and some toppings I find strange because I'm from NY originally. They like their pickles, but they do NOT have sauerkraut which I am always borderline offended by! I'm a Nathan's girl myself.

If you find the hot dogs here are different from what you grew up with then you can order the Root Beer and Fries which are awesome! If you're so bold try the Buttermilk. I never have, but plan to next time we're passing by.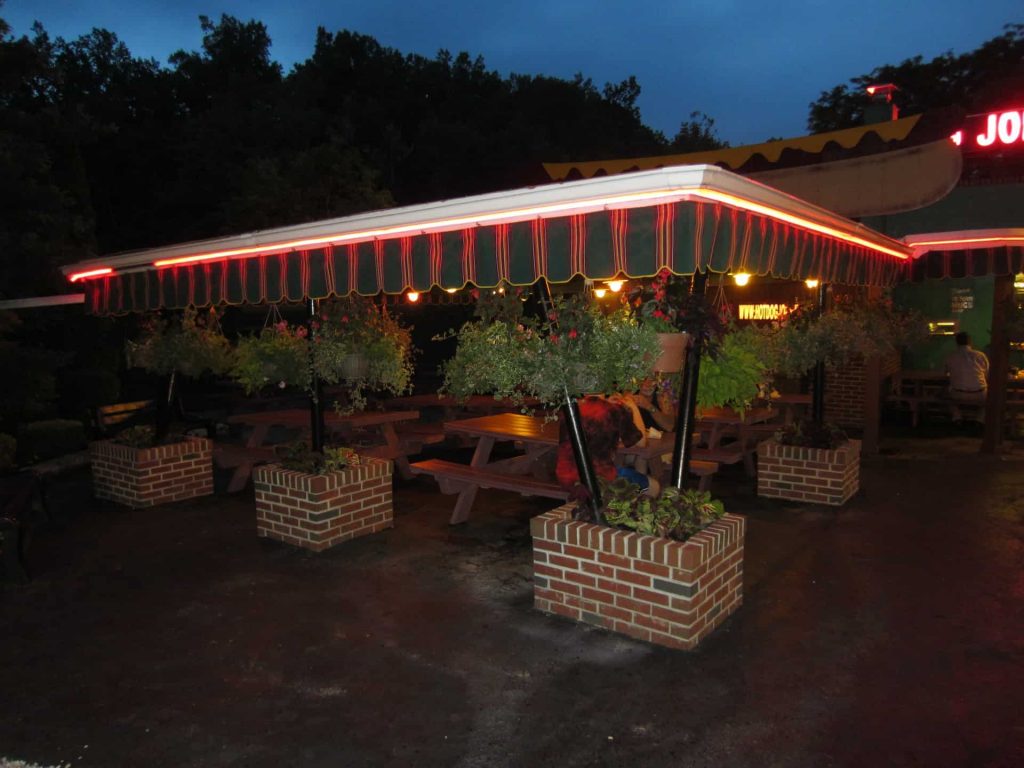 Johnny's sits on the river which gives it a unique charm. There are swings for the kiddies and picnic tables inside and outside.

When the sun goes down and the Neon goes on it will take you back in time, especially when the already quiet road slows down even more so. You may expect The Fonz or even Marty McFly to show up!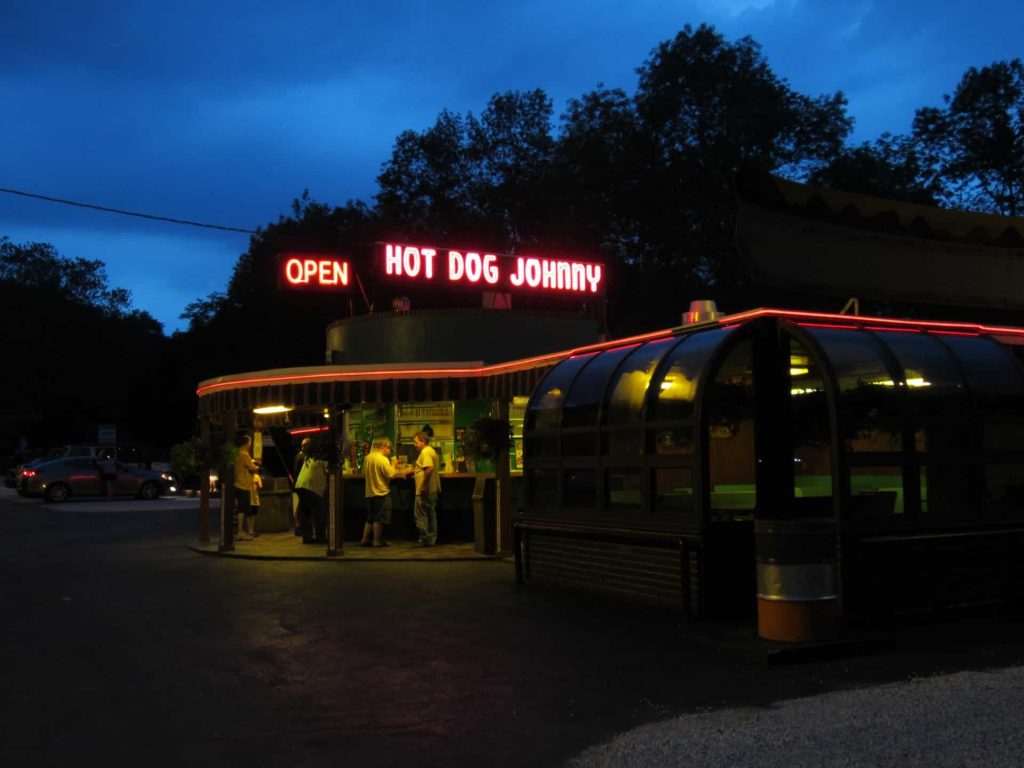 They have been a family run business since 1944. It's unique and quaint and close-by, so I highly recommend you go visit Hot Dog Johnny's.
Sounds positively PERFECT Kristina – thanks so much for sharing this cool vintage place, so we can all go check it out and keep it going! 
ADDITION!
Recent Retro Roadmap Reader "Ramble Lin" Linda McG has graciously allowed me to share her memories and  images of Hotdog Johnny's – so you can get a different point of view in the daylight – makes me want to go check it out even more!
Linda writes:
Four generations of my family have been going to Hot Dog Johnny's since the mid 60s. Situated on the picturesque Pequest River (say that three times, fast) … it is on U.S. Route 46, at a point where it becomes a two-lane road.
Back in the day, it was the only route for us to take to the Delaware Water Gap and Pocono Mountains, from our home in Northern New Jersey. Traffic was at a standstill on Sunday evenings, as day trippers wearily found their way back home. And thus, was my introduction to Hot Dog Johnny's.
When we were nearly there, my father would reach into his pocket and pull out his wallet. He'd hand a few bills to Bill, my older brother, who'd then get out of the car … run over to the window … place an order … and then meet us, a bit up the road, with deep-fried hot dogs and icy cold birch beers. (The fact that they served buttermilk then — and now — still makes me shudder.)


Fast forward. I-80 was built; and much like Carburetor Springs, in "Cars", most travelers were now on the interstate.
The only thing that changed for us was that now we actually park the car … order our food "for here" (meaning a chunky glass mug for the birch beer, instead of a styrofoam cup) … and sit down to marvel at this amazing time capsule on the Northwestern edge of New Jersey.
Hot Dog Johnnys Buttzville NJ – Reader Recommended!
333 US Highway 46 Belvedere, NJ 07823