Josh Early Candies – Allentown's Fave Sweet Spot! Mod Betty says, "It's never too late to go to Josh Early!"
Posted on: February 14, 2016
Josh Early Candies is conveniently located just a few moments off of so many major roads in and near Allentown Pennsylvania – (Route 78,  Route 476, Route 22, Route 309) that you simply have no excuse not to swing by this cheery colonial kitchen for homemade chocolates and sweet treats!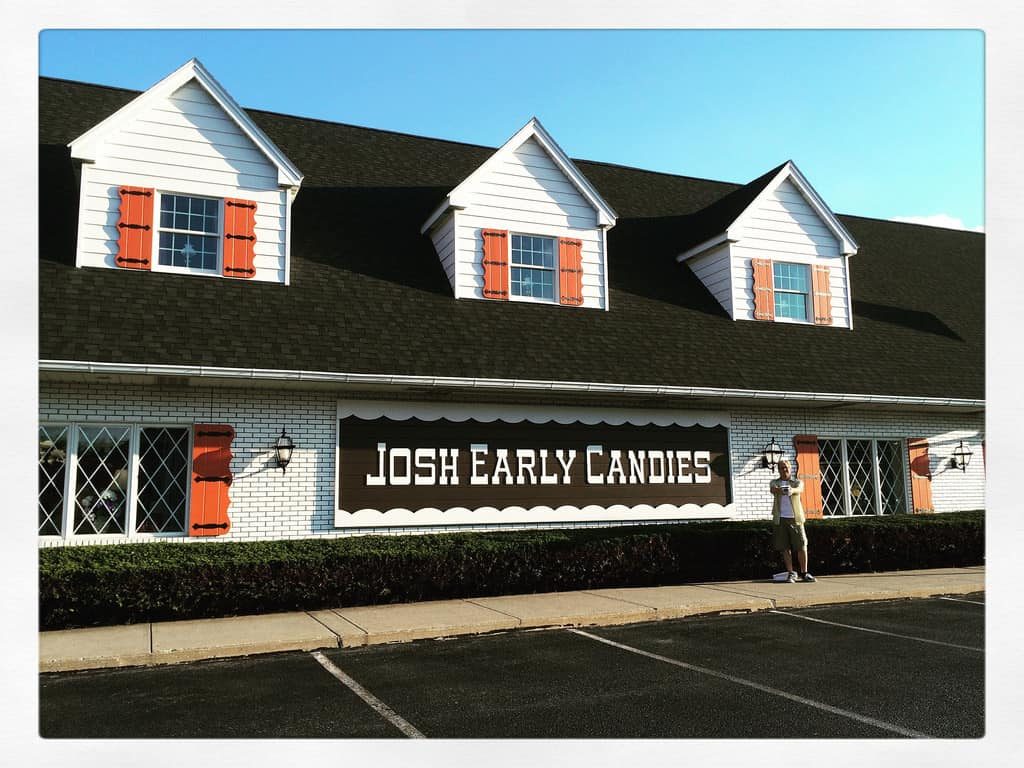 The business has been in the Lehigh Valley since 1900, but has only been here at the corner of Tilghman and Broadway since 1986, when highway construction forces their original location to close. However, their attention to detail when creating this location gives it a classic candy store vibe, that you'll feel as soon as you walk in.
A fifth generation family business, their candies are small batch made (and some come in these cute little bucket containers that Mod Betty finds adorable!)

In chatting with the sweet older woman behind the counter helping us create an assortment for a gift, she said that they are most famous for their vanilla creams, but also (to Retro Roadhusband's delight) their nonpareils.
You can see them in their assortment of different colors and chocolate types at the front counter, and if you are adept enough at swirling the metal spoon in the tasting dome, you can sample one yourself!


Once you have a sample you'll want to have them make up your own favorite color combo…hmmm, maybe orange and aqua Retro Roadmap colors? 🙂
You can also get a pre-made boxed assortment, or do what Mod Betty loves to do and create a custom selection, guaranteeing you no mystery chocolate covered nougats or dubious cremes in the bunch!


I often say, "Nevermind a kid in a candy store, being an adult in a candy store is even more fun!"
So remember – it's never too late to stop by Josh Early!
Josh Early Candies – Allentown's Fave Sweet Spot!
4640 Tilghman St, Allentown, PA 18104