National 5 &10 – Delaware's Last Remaining Five and Dime On Main Street Newark, DE
Posted on: May 8, 2016
National 5 & 10: Newark, Delaware
address: 66 E Main St, Newark, DE 19711
phone: (302) 368-1646
One of Mod Betty's fave Delaware Retro Roadmap destinations is Newark's  National 5 &  10 store, with its cheery red sign and fabulous brushed stainless letters.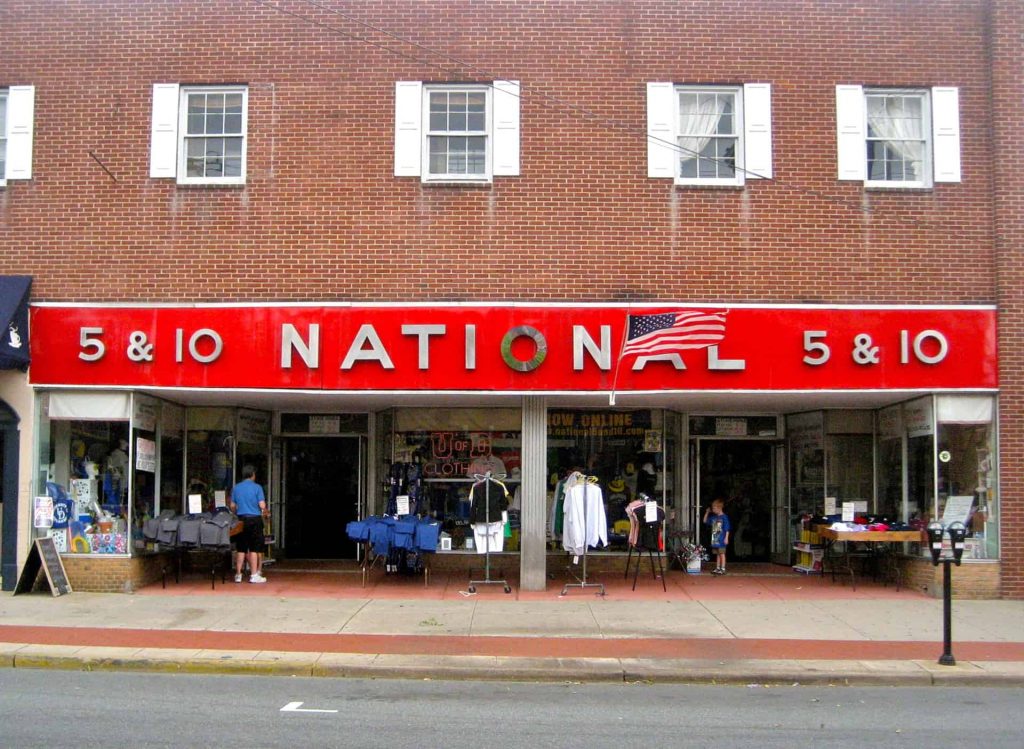 Family owned and operated, this business has been in the Handloff family since 1911 and at this location since 1931. You can see the name as you enter!


Years ago I had driven past this location scads of times but not ventured in, since I had little interest in purchasing something with the Delaware insignia on it. And boy, do they have plenty of Delawareabilia here at the 5 & 10, more than I've ever seen in my life!
But lucky for me – and for you, too – they have plenty of other useful items to choose from.


Towards the back half of the store it goes from college insiginia-ville to a regular Woolworth type store, with household goods, plastic toys, hardware items and keys to be cut.
I also love that they carry those "shaped like a state" magnets, as I'm a fan of collecting 'em all!
I don't think the young gent behind the counter shared my admiration of the cashier sign behind him, as I snapped a photo, but who knows?
Maybe he'll look at it with fresh eyes after my exclaiming how cool it was!
If you're in the mood for some real Main Street shopping, don't go to a faux outdoor mall that calls itself Main Street, support the real deal, on Main Street in Newark Delaware.
National 5 &10 – Delaware's Last Remaining Five and Dime
66 E Main St, Newark, DE 19711