Night Road Diner Photos by Photographer John Woolf – National Heritage Museum Lexington, MA
Posted on: June 14, 2011
Tags: Diner Photos, exhibit, John Woolf, Lexington, MA, Museum, Museum of Our National Heritage, National Heritage Museum, neon, November 2011, Photographs, Photography, Photograpter, Roadside
I just got a nice note from photographer John Woolf – his exhibit of 20 diner and roadside photos on display at the National Heritage Museum in Lexington MA (which I always mistakenly refer to as the Museum of Our National Heritage) – has been extended!
Now you have until November 2011 to check out these wonderfully detailed and saturated prints, a sample from  his "Night Road Series."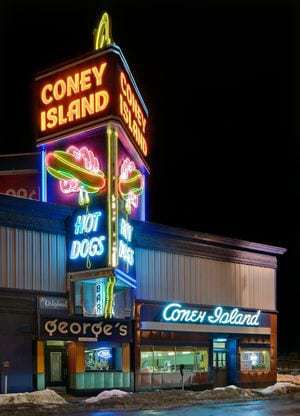 (Like this, George's Coney Island Hot Dogs in Worcester, MA. Isn't that neon just gorgeous?!)
From the museum's description of his photo show:
Drawn to diners and other twentieth-century roadside architecture, photographer John Woolf embarked on a project of capturing images of these buildings—especially those in the Northeast industrial corridor from New Jersey to Maine.  Twenty of these compelling photographs can be seen in the exhibition "Night Road."

Using a digital camera and making multiple exposures for each light source and then combining them together in software, Woolf has tried to recreate the lurid color and dramatic lighting of these roadside structures. Digital photography enables this process, which would not be possible with a traditional film camera.
Here's a link to the entire portfolio of those nighttime images – there are plenty of beautiful shots in there. I can't pick a fave!
Should you happen to be in the Boston area between now and November go and check out his photos live and in person. I've just put it on my list of things to do when I'm back up at home this summer- perhaps I'll see you there!
Night Road Diner Photos by Photographer John Woolf – National Heritage Museum
33 Marrett Road, Lexington, MA 02421-5703