Parkside Candy – Shuffle off to Vintage Buffalo NY – Retro Roadmap Mega Post! Buffalo, NY
Posted on: July 11, 2012
2017 UPDATE! Good news, Parkside Candy has gotten some restoration love, both inside and out!
See some additional photos of the outside in this article from Buffalo Rising, and of the inside as well.
Special thumbs up to Glenn Wells' RoadsideFans newsletter for the links.
Original 2012 Post:
Whew! What I thought was going to be a list of places for  Retro Roadsis and her fam to check out in the Buffalo NY area somehow has ended up to be the most sprawling post ever for Retro Roadmap! We've got places I've been, places I saw but didn't go to, places I found out about during research, and Retro Roadmap reader recommendations for places in Buffalo and beyond. I better stop now but I'm betting there are lots more Retro Roadmap worthy places in the area – add them in the comments!
Parkside Candy
Just like one of their delectable candies, it's got a crunchy outside, and a deliciously sweet interior!
Parkside Candy is famous for their sponge candy (a crunchy sugar foam enrobed in chocolate) and delightful 1920s interior. As soon as you walk in the door you'll see that it hasn't changed much since it opened in 1927. Solid walnut fixtures still adorn the oval shaped room, and the decorative plaster details are reminiscent of wedding cake decorations.
Family owned and operated, the Parkside is also an ice cream parlor and lunch counter. I made 2 trips to the Parkside during our short stay in town, as the first bag of sponge candy I bought to take home was consumed within hours of purchase! The return trip was a great excuse to snap some more photos of this historic business as well, so it was a win-win situation.
Parkside Candy
3208 Main Street
Buffalo, NY 14214
716- 833-7540
Lake Effect Diner
Just down the street from Parkside Candy is the Lake Effect diner. Located in Buffalo since 2002, it was moved here from Wayne, PA where it was called the China Budda restaurant.
A 1955 Mountain View diner, The Lake Effect has been recognized nationally (on Diners Drive-Ins and Dives) because of their wide range of homemade and locally sourced foods, which are served along with their regular diner fare. We did not eat there, but would in a heartbeat next time we're in town.
Lake Effect Diner
3165 Main Street
Buffalo, NY 14214
(716) 833-1952
Vintage Signs
Driving around in a city like Buffalo you will hopefully spy some of their vintage signs – many of them made by the Flexlume Sign Company. Of course their own sign is worthy of a Retro Roadmap Photo Op- and an interesting addition to your vintage sign knowledge.

According to the Flexlume website, the company – founded in 1904 and moved to Buffalo in 1911 "produce white opal glass molded letters to push through a sign face and illuminate from the rear."
ASIDE 1: Now I can't be 100% sure, but I'm thinking that this vintage sign that I spied on the factory building of Parkside Candy, was created in that very same manner:
Flexlume Signs
1464 Main Street
Buffalo, NY 14209
(716) 884-2020
ASIDE 2: Because I'm in that kind of mood – while researching the Flexlume company I spied a sputnik inspired vintage neon sign on their website, and through the power of the interwebs, tracked down this Retro Roadmapworthy gem of a place – Red Top Hot Dogs in Hamburg NY:
Now it looks like the Sputnik must be in orbit somewhere according to the photo above, but from the reviews of this corner dog stand (that has been there since 1946) they offer up good classic roadside stand food, with a great view of Lake Erie. So on the map it goes!
Hamburg, NY 14075
(716) 627-5163
Now where were we? Oh yes, vintage signs in Buffalo – like this beautiful one for the Park Florist shop on Main Street. Full disclaimer – photoshop made this look a little bit better than it was in real life, but it was still sweet in person!
2017 Update: SADLY PAINTED OVER 🙁
BEFORE:

AFTER:
Aside 3: One more "signage wonder" that I only got to snap a photo of, but dang we have to go in next time, comes courtesy of the swell gals who were working at the vintage clothing shop Divine Finds who, when I told them about Retro Roadmap told me about a crazy Buffalo tradition, oh no I'm getting sidetracked again! But first I bring you the  first place they shared:
The Nortel Grill:
2018 UPDATE: Wah! 🙁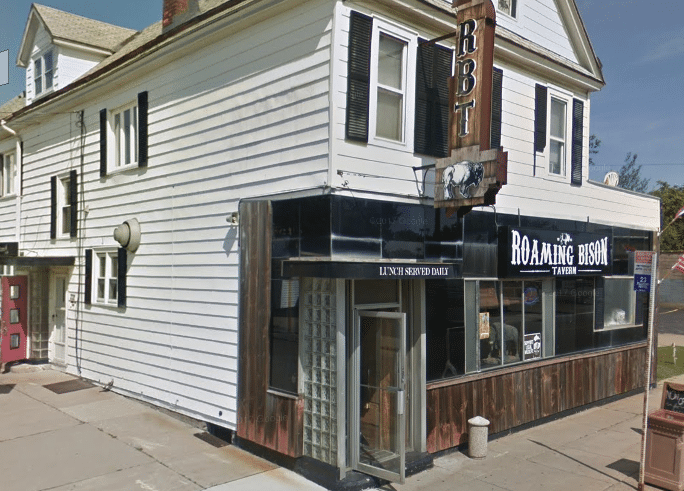 Isn't that vintage exterior just too much! Vitrolite, neon, pink, black, vintage sign, glass block – it's got it all!
According to this 2008 article about the Nortel Grill from Buffalo Rising, the Nortel has been in business since 1935 and is only open nights and weekdays. Named for the intersection of the 2 streets NORris and HerTEL,  they also mention that their sign is a Flexlume – so I'm thinking that's a good recurring motif in this rambling Buffalo post!
The gal at the vintage shop mentioned that the dining room in the back was wonderfully preserved, and the old school food (Fish Fry / Beef on Weck  – more on that in a moment, as Aside number 72)  was not to be missed.

The Nortel Grill
732 Hertel Avenue
Buffalo, NY 14207
OK, so crazy cool Buffalo Aside #824 – There's an annual tradition in Buffalo called the "World's Largest Disco" – I kid you not! Since 1994 a big disco party has been held, paying homage to the 1979 event when 13,000 people boogied on down to Gloria Gaynor and The Trammps at the Buffalo Convention Center, setting a Guiness Book World Record. The party is charity event for a non-profit for children with cancer, and over 7000 folks get all dolled up in vintage 1970s polyester to have fun for a good cause on the weekend after Thanksgiving. HOW COOL IS THAT?! (Mind blown, bucket list added to…!)
Nkay, so where was I? Ah yes, ASIDE 4345:
Beef on Weck!

  Beef on Weck is a regional delicacy from the Buffalo area, a sandwich made with rare warm sliced top round roast beef served on a Kummelweck roll ( a round roll topped with coarse ground salt and caraway seeds.) Now I know all the locals have their favorite places to get these indigenous sandwiches, but I was told to go to Schwabl's, so – I went! (Truth moment- while writing this post and looking at my and other peoples' photos of Schwabl's, I totally had to go out to the store and get some roast beef and salty rolls.
Schwabl's
The Schwabl family has been in the restaurant business since 1837, and their West Seneca location is a local landmark.
It's a small old fashioned type of restaurant, where the waitresses wear white uniforms and birch beer is on the menu. Not only did I get a tasty beef on weck with a birch beer to wash it down with, I also got a side of german potato salad. There are all sorts of other options on the menu, like Hungarian goulash, their own pickled beets and, in the cold winter months you can get a Tom & Jerry. (I've given up counting my asides)
Yes, that's right, another interesting regional food item! Well this is actually a drink, and had Retro Roadhusband been with me we would've totally tippled.

I'll leave it up to Schwabl's to explain their Tom & Jerry:
A very old fashioned hot cocktail served in our vintage carnival glass set. Started with a lightly sweetened egg batter, with a dark rum and brandy mixture added. Then finished with hot water and a sprinkle of nutmeg. Perfect for cold Buffalo winters.
Schwabl's Restaurant
789 Center Road
West Seneca, NY 14224
(716) 675-2333

Since I'm "Asiding" all over the place, I might as well throw in the tidbit that the Beef on Weck at Schwabl's was featured in my idol WQED treasure Rick Sebak's Sandwiches That You Will Like special from 2002.
Forgotten Buffalo TOURS!
If this post has whet your appetite for more Buffalo vintage goodness, put yourself in the hands of the real local subject matter experts at Forgotten Buffalo – "the region's authority on unique landmarks, classic taverns, old world neighborhoods & "Nickel City" oddities."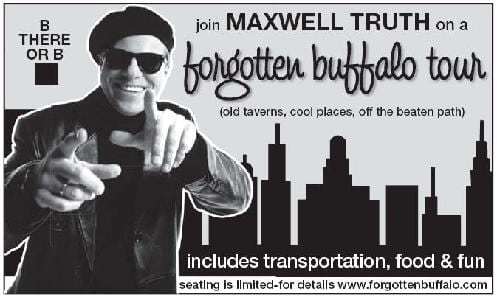 While I can give you a view of the city as seen through the fresh eyes of a visitor, you'll get to know the real deal about Buffalo from city natives Eddy "Maxwell Truth" Dobosiewicz and Marty Biniasz. They'll take you on fully guided tours of places that only a local would know about or get access to, like "Ethnic Enclaves, Clubs & Societies", "Best of Forgotten Buffalo Neighborhoods", tours of the Historic Polonia District and more.
Had I been able to time our visit to "Nickel City" we would have hopped on a tour for sure, and I've definitely got them on the Retro Roadmap bucket list. The Forgotten Buffalo website is also a wonderful resource if you want to plan your own adventure in the city.
I could get all distracted by their lists as well, but I'll leave it at the moment, if only to share a few more Western NY tidbits.
We're now flung a bit away from Buffalo proper, but since we're in that basic neck of the woods, I thought I'd share 2 quick Retro Roadmap Reader Recommendations
Kazoo Museum – Eden NY
Retro Roadpal Gunnar Johnson – of Eccentric Roadside fame was quick to recommend the Kazoo Museum after I posted about the Jello Museum in LeRoy NY.
"The Original American Kazoo Company was established in 1916 and is now the only metal kazoo factory in North America. The museum highlights history, amusing trivia, and shows step by step the way kazoos are made."
I'm sold!
Kazoo Museum
8703 S Main St
Eden, NY 14057
And now for the Bowling Alley Under A Grocery Store Category…
K&L Lanes – Gowanda NY
Recent Retro Roadmap pal Adam Henderson of Dead 50s Modern hepped us to this place, and writes:
K&L Lanes in Gowanda, N.Y. is the most original bowling alley I have been in. Located underneath a supermarket, it is the same since the late 50s. 10 lanes a snack bar with amazing cheese burgers, and a bar! Its been a while since I've been there, but worth the trip!
Sounds like a fun place to me, Adam, and thanks for the tip.
K & L Lanes
10 Buffalo Street
Gowanda, NY 14070
(716) 532-9791
I'd be remiss if I didn't suggest a trip to see Niagara Falls – being so close and all. While there are some tacky tchotchkes to be found on the American side at the Wax Museum on Prospect Street, the falls are the real deal (TIP – bring your passport so you can check 'em out from the Canadian side too!)
And there you have it sweethearts, the Buffalo NY AREA Retro Roadmap tour! Phew. I'm beat 🙂
PS my post here got a nice little shout out from Buffalo Rising! http://www.buffalorising.com/2012/07/retro-buffalo.html
Parkside Candy – Shuffle off to Vintage Buffalo NY – Retro Roadmap Mega Post!
3208 Main Street Buffalo, NY 14214