Texas Hot, Wellsville NY – Rick Sebak Recommends! Wellsville, NY
Posted on: March 8, 2010
A big Retro Roadmap thank you to WQED producer Rick Sebak who was kind enough to drop a note about this classic "Texas hot" spot, in business since 1921, on Main Street in Wellsville, NY – about 2 1/2 hours west of Binghamton NY.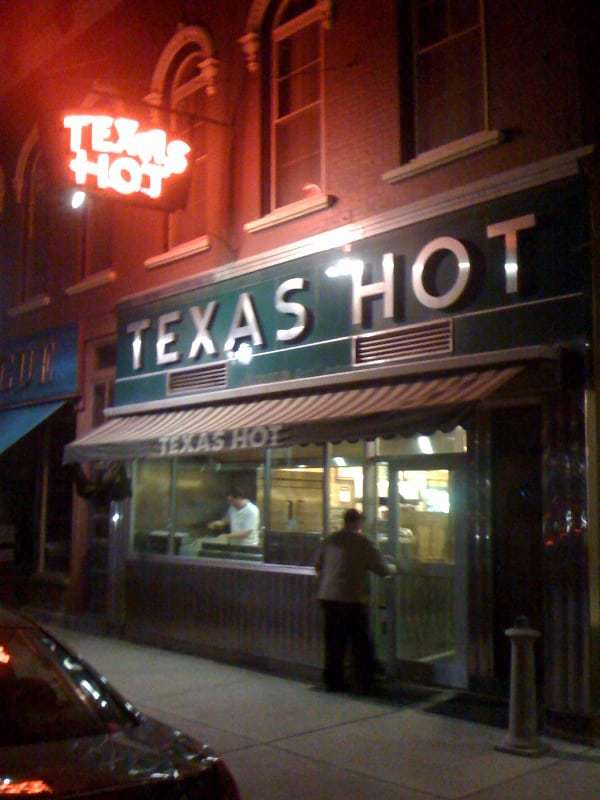 (If you're like me and not quite sure what a Texas Hot is, it is a hot dog on a steamed bun coated with mustard, covered with a spicy chili sauce, and topped with onions. Now we both know!)
Rick Writes:
If you're not familiar with Texas Hot in Wellsville NY, you definitely should be. Texas Hot is a time-machine sort of place that's still thriving, still serving famous hot dogs and providing a portal into some other time frame.
The booths are tiny, so we sat at the counter, but the waitress was spunky and fun, the pies (ah, coconut custard!) were quite good, and I'd stop back anytime I was in Allegeny County New York. Let's call that southwestern or south central New York State.

(We were (in the area) to have buckwheat pancakes, about 30 miles north of Wellsville, at the Cartwright's Maple Tree Inn…I should have the Maple Tree Inn up on my blog in a few days.)

The Texas Hot in Wellsville was just a wonderful side attraction, but everyone recommended it. A classic.
Well, you don't have to say much more than that to get me to put it on the Retro Roadmap.
Consider it added, Rick, so all Retro Roadtrippers can enjoy this joint!
Click here to read a wonderful recollection on the origins of this landmark, written by the son of the original owner!
Texas Hot, Wellsville NY – Rick Sebak Recommends!
132 North Main Street Wellsville, NY 14895-1151