[CLOSED 2017] The Hearth Restaurant Odessa DE – since 1963
Posted on: July 1, 2016
Sad to report that The Hearth in Odessa, DE has closed, after the death of longtime owner Nicholas "Nick" Klederas. We discovered this while prepping to head down there to share the good news that they are in the Retro Roadmap Delaware book, and feel like we've lost a member of the Retro Roadmap family.
Hearth fan Ed P was kind enough to snap these photos of the sign in the window, that went up suddenly after dinner on June 10.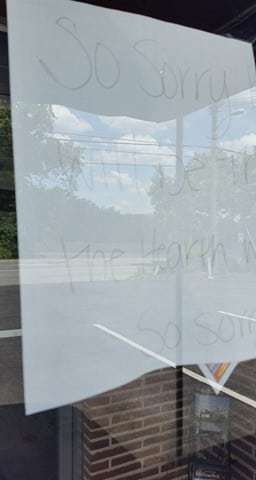 Our hearts go out to Nick's family, and we're sad to know that Delaware is down yet another interesting, authentic vintage place.
Original 2016 Post:
Oftentimes, traveling back in time means getting off of the main highways and exploring the back roads. That's how we discovered The Hearth restaurant in Odessa – just off the north/south expanse of Route 1 that runs from top to bottom of the state.
Under the same ownership of Nicholas "Nick" Klederas since 1963, the first thing that catches your eye about The Hearth is the vintage neon sign out front extolling the virtues of Steaks, Seafood, Lunch and Breakfast. They've got it all here at The Hearth.
The next thing you may notice, if you're a student of highway restaurants, is the geometric cupola topping the restaurant, evoking the Howard Johnsons of a bygone era.

Even stepping inside the earthtone-heavy interior gives that sense of deja-vu, but flip-flopped, with counter service to the left and booth and table seats to the right. We were assured that this had never been a Hojos, but one has to wonder if the success of that iconic roadside chain led to some imitation back in the day?


The menu is a nostalgic throwback as well, with daily specials heavy on the comfort foods of yore: meatloaf and potpie, navy bean soup, lima bean sides. Baked chicken is a Sunday favorite, and the advertised steaks are the prime rib special on Saturday night.
Treat yourself to a dessert of homemade rice pudding to complete your trip into the past, before you hit the road and motor yourself years forward into the present day.
Plan your visit accordingly – they're closed Mondays
So old school they're Cash Only
[CLOSED 2017] The Hearth Restaurant Odessa DE – since 1963