The Leavitt Theatre Ogunquit, ME – You'll Love It! Ogunquit, ME
Posted on: July 29, 2010
I'm posting about the Leavitt Theatre in Ogunquit ME out of chronological order, because it closes for the season soon after the summer is over and I want you all to have enough time to visit this swell seaside movie house!
The Leavitt Theatre is in the town of Ogunquit Maine, which is an easy exit off of the Maine Turnpike / 95, soon after you cross over from New Hampshire. I've got a bit of an "in" at the Leavitt as my uncle Kevin has been a projectionist there since 1974, and is still up in the booth one night a week. (Here's a photo of Kevin I happened to find on the Leavitt's Facebook Page!)
"1991 photo of Kevin Hickey in the Leavitt Theatre projection booth. Kevin has been a projectionist here since 1974! He still keeps the equipment running smoothly. He completely overhauled the booth with newer projectors in 2003."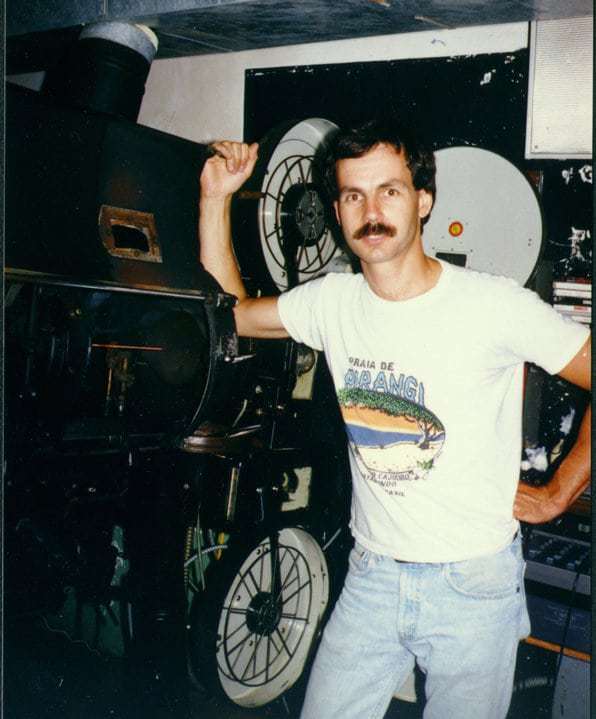 When I let him know that I'd be in the area he was happy to bring my friend Jeannie and me on a behind the scenes tour of the theatre. Lucky us!

(Kevin says they rue the day that someone planted these trees in front- they were supposed to remain tiny, but they've grown to obscure the front of the theatre. While the tree hugger in me says let'em be, the photographer in me says- cut'em down, they're getting in the way of a good picture!)
In chatting with owner Peter Clayton, who has owned the theatre since 1976, he says that the theatre, built in 1923, is thought to be the oldest continually running business in the town of Ogunquit, and I'm glad to hear that it had never closed down or had to turn towards "other sorts of programming" to stay afloat. Indeed I'm also glad to learn that because the Leavitt is a seasonal theatre they are able to get first run movies and play them for a few days at a time, so vacationers staying for a week can see a number of movies during their short stay.
Peter's family all have worked at the theatre in one capacity or another, from selling tickets from the booth (and needing a step stool to reach the ticket window) to selling popcorn with real melted butter atop. I myself spent a short bit of my early teen days here at the Leavitt when I was staying with family up here one summer. I remember seeing Airplane for the first time (this is dumb) and the second time (hey this is kinda funny) and the third time (OMG this movie is HYSTERICAL!) at the Leavitt.


In walking (or limping in my case) down the incline towards the stage Kevin points out that all of the 600 seats are original but many have been reupholstered to add more padding for the comfort of us modern folks. One of the things that I'm thrilled to see they didn't tamper with were the wire hat racks attached below many of the seats, so gentlemen would have a place to stow his hat during the show, for the comfort of the folks back in the hat wearing days.
The auditorium itself is not opulent, but has clean simple lines, something you'd expect to see in Maine. While the look may still be old fashioned, the sound system has been upgraded to Dolby Surround Sound, and we learned from Kevin about the Cinemascope and regular type movies, which they're equipped to play both. I very much enjoyed the unusual vantage point looking out on Route 1 from the window of the projection booth!
In reading some of the articles Peter was kind enough to lend me, I was dismayed to read that they don't seem to get a lot of locals coming to the cinema, and instead it's mainly (MAINE-LY!) tourists and vacationers. C'mon local folks, you don't realize how good it is to have a movie house on your main street until it's gone! Don't take it for granted! Everyone one and all, make sure to support this independently owned, family run, continually operating 85+ year old theatre. And if you don't live near the Leavitt, make sure you support your closest independently owned theatre- these days we're all on a shoestring, but the family run businesses get hit harder than the big corporate multiplexes. Wouldn't you want to see your money go into helping the Clayton family keep this movie cinema going, and not just lining the coffers of some giant conglomerate? I don't like to get all preachy, but you know what I mean.
OK, I'm off the soap box I promise, and on to the "hey check this out" department:
As I turned the page of a York County Coast Star article about the Leavitt from 7/8/2004 (that is not online though I was ready to link to it), I recognized a movie title even though it was a film I've never even seen. Does that ring a bell with any regular Retro Roadmap Readers?
In a moment of kismet, I realized that was the same film that I had seen a poster from and snapped a photo of further down the east coast in Barnegat NJ! Cool stuff, huh? Neat when stuff comes together like that!

So please- if you're on Route 95 in Maine, driving past, or staying nearby for the week- maybe you're on a first date in Portsmouth NH and you want to do something totally wacky and memorable- get yourself over to the Leavitt Theatre on Main Street in Ogunquit and help continue the tradition of this being the oldest continually running business in town!
The Leavitt Theatre Ogunquit, ME – You'll Love It!
259 Main Street / Route 1 Ogunquit, ME 03907