Tom's Ice Cream Bowl Zanesville OH – A Rick (Sebak) Pick! Zanesville, OH
Posted on: December 10, 2009
I read about Tom's Ice Cream Bowl of Zanesville Ohio on Rick Sebak's* blog and he was kind enough to allow me to share this great vintage ice cream parlor with Retro Roadmap Readers.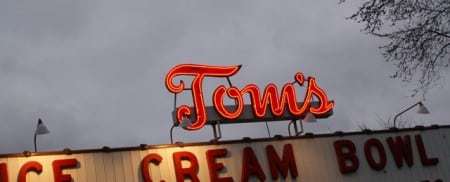 Rick writes:

I think it's silly to drive from Pittsburgh to Columbus or vice versa without stopping in Zanesville OH at Tom's Ice Cream Bowl. It's been a family tradition now for nearly twenty years since this guy at work, Bob Meek, insisted that I stop. He kept telling me it was like the Fifties, and I thought he meant fake nostalgic Fifties, all James Dean-y and Marilyn Monroe-ish, and I didn't bother, but then one day I did take the Maple Avenue exit off I-70 and found the place.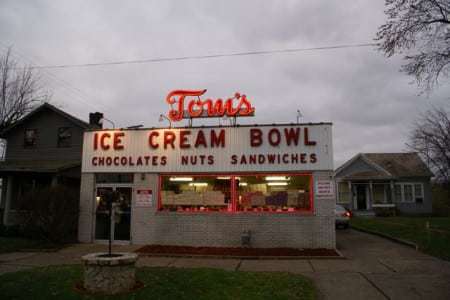 It's astounding. A time machine. It transports you to what-I-want-to-call the Forties. It's untouched, unchanged. A piece of another era that you can step into and get ice cream and really good roasted nuts.
So we stop. Bob and Glenn are impressed. It is a magical place where they put the names of the seasonal flavors of homemade ice cream on paper cards and post them high on the one wall.
Glenn gets eggnog. I get rum raisin. (Those are seasonal holiday flavors.) Bob gets black raspberry, a year round flavor that's listed inside the wooden cabinet in the corner of the room behind the nut-and-candy cases. These are "single-scoop" dishes. Big single scoops. The sundaes overflow the bowls they come in.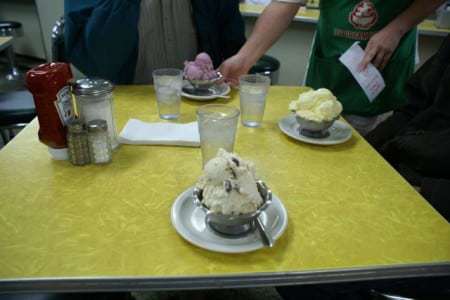 (Back in 1996 when we made "An Ice Cream Show" for PBS and CPB, I always thought I'd include Tom's Ice Cream Bowl, but we ran out of time and travel money in our budget.  Still I mentioned this beautiful little place when I gave a list of great ice cream places to USA TODAY back then.)
If you're ever near Zanesville, stop.
*WQED producer and host of such gems as "Pennsylvania Diners and Other Restaurants" and "Great Old Amusement Parks to just name two, Rick is an inspiration for those of us who love vintage roadside delights! Don't forget to check the annex of the WQED shop devoted completely to DVDs of Rick's road shows – they make perfect gifts this holiday season!
Tom's Ice Cream Bowl Zanesville OH – A Rick (Sebak) Pick!
532 McIntire Zanesville, Ohio 43701